Informationen über Organisation
Archäologische Stätten
SKORBA TEMPEL
St. Anne Square, Żebbiegħ Mġarr, MĠR 2210, Malta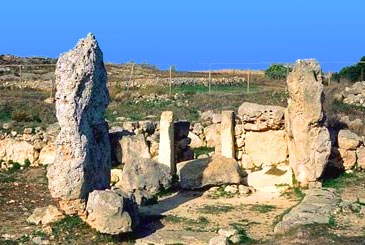 Skorba umfasst zwei Tempelruinen, die während der ersten zwei Phasen archäologischer Ausgrabungen im frühen 19. Jh. und im 20. Jh. unberührt geblieben waren.
Bei Skorba wurde in der Zeit von 3600 – 3200 v. Chr. ein typischer Drei-Apsiden Tempel auf den Resten eines Dorfes gebaut, das aus der Zeit von 5000 – 4300 v. Chr. stammte. In der Zeit von 3150 – 2500 v. Chr. wurde östlich davon ein weiterer Tempel errichtet, der bei seiner Entdeckung in deutlich schlechterer Verfassung war; aber man kann erkennen, dass er aus vier Apsiden und einem zentralen Gewölbe bestand.
Skorba war bereits lange vor dem Tempelbau bewohnt und die frühesten Strukturen der Stätte werden der Zeit von 5000 – 4300 v. Chr. zugeschrieben. Im Bereich Richtung Osten befinden sich zwei Räume, die auf die Zeit von 4400 – 4100 v. Chr. zurückgehen. Die Unebenheit des Bodens und das Fehlen von Feuerstellen scheinen einen Gebrauch als Wohnbereich auszuschließen. Eine Gruppe von Statuetten, die im nördlichen Raum gefunden wurden, deutet eher darauf hin, dass das Gebäude religiösen Funktionen diente.
Kontaktinformation
Kontakt:

Heritage Malta,

Telefon:

+356 21580590

Telefon:

+356 22954000

Faxnummer:

+356 21222900
Ausstattung & Dienstleistungen
Ländlich gelegen
Allgemeine Information
Öffnungstage:

Montag
Dienstag
Mittwoch
Donnerstag
Freitag
Samstag
Sonntag

Öffnungszeiten:

Monday to Sunday: 09.00 – 17.00hrs. Last admission at 16.30hrs Closed on 24, 25 & 31 December, 1 January & Good Friday. Due to the small size and fragility of these sites, only 15 visitors may be admitted at a time.