Organisation Information
Museums & Galleries
CASA ROCCA PICCOLA
No. 74, Republic Street, Valletta, VLT 1117, Malta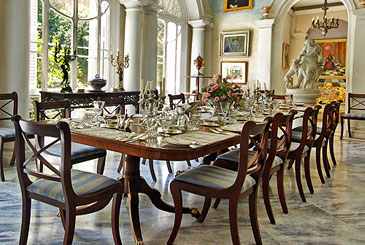 This beautiful Palace is the only privately owned property open to the public in Valletta and has a fascinating variety of different things to see.
Originally built in the 16th Century for Don Pietro La Rocca, a Knight of Malta, it is now the family ancestral home of the 9th Marquis de Piro and his family. On your visit you will be able to walk through twelve palatial rooms including the two Dining Rooms, (one for the Summer and one for the Winter!) as well as the Four Poster Bedroom and a private Family Chapel. There are literally hundreds of magnificent things to see and many visitors come back year after year. One of the most popular things to see at Casa Rocca Piccola is the network of underground passages and tunnels cut out of the rock over its 400 year history which provide a dramatic and exciting addition to the tours of the house. One particular tunnel takes you into a huge cavern that was used during the WW2 to shelter over 100 people from the heavy bombing and another tunnel takes you to a small room used as a private family shelter.
Casa Rocca Piccola also has a walled garden with orange trees and which serves as home to a number of house pets such as Vulcan the Red-eared Terrapin and April the Tortoise.
Facilities & Services
Major Credit Cards Accepted
Public Toilets
Quality Assured
Town/City Location
General Information
Opening Days:

Monday
Tuesday
Wednesday
Thursday
Friday
Saturday

Opening Hours:

Casa Rocca Piccola is open from 1000hrs to 1600hrs every day except Sundays and Public Holidays with tours taking place on the hour. Admission after hours is also possible by appointment.