Organisation Information
Boat Diving
SS LUCISTON
near Marsaxlokk, Malta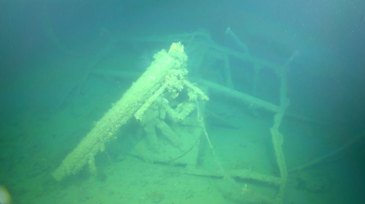 Photo credit: University of Malta
SS Luciston (also known as Luciston Collier) is the only World War I wreckage in this list. The British steamer was built by J.L Thompson & Sons in Sunderland in 1890, measuring 100m in length and weighing 2,877 tonnes. Her primary role was to transport coal between ports and refuel coal-burning ships.
Towards the latter part of the First World War, SS Luciston departed the port of Cardiff and made her way to Malta carrying a supply of coal. However, she was torpedoed on her approach to Valletta by a German submarine.
The wreckage was first discovered in the late 1990s but later surveyed in detail in 2015 off the coast of the fishing village of Marsaxlokk at a depth of approximately 96m. The wreckage is in a fragmented condition, but many of the ship's main features are still visible. This includes the winch, the anchor, the ladder and the gun, which is still in place. Deposits of coal are also scattered around the seabed.
This is one of the wrecks managed by the Underwater Cultural Heritage Unit (UCHU) within Heritage Malta. For information regarding other wrecks managed by Heritage Malta, click here.
Contact Information
Contact:

Heritage Malta – Underwater Cultural Heritage Unit

Phone:

+356 79004141
General Information
Maximum Depth in Metres:

95