Divertimento in Famiglia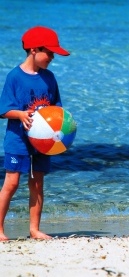 The Maltese Islands are great for families. Malta, Gozo and Comino offer a wonderful setting for a holiday in which parents and children can share the joys of discovery, experience the thrill of an action-packed vacation or just savour the simple pleasures of relaxation. All in a safe and tranquil environment that few other destinations can rival.
Summertime in Malta is synonymous with outdoor living. There is no shortage of beaches to choose from: some fully-developed resorts offering all the requisite facilities, others more secluded, quieter and more pristine. And, if going to the seaside seems like too much of a challenge, then one can always opt to spend the day by the hotel pool. Either way, one should never forget to put on plenty of sun-cream, especially on the little ones.
But Malta is so much more than just sun and sea. With a rich history dating back thousands of years, the islands offer endless opportunities for sightseeing and exploration. Prehistoric temples, roman ruins, medieval castles and walled cities, formidable forts, splendid churches and wayside chapels… these are just a few of the historical attractions that families can visit for that unique travel-back-in-time experience. Some of these locations are venues for colourful historic re-enactments, pageants involving dozens of animators dressed as soldiers, noblemen and ladies, knights in shining armour, with their swords and lances, muskets and canons. Not to be missed.
Throughout the year, Malta is alive with events, many of which are perfect for the entire family to enjoy: concerts and open-air music events, arts and crafts, sports and activity, exhibitions and shows, feasts and carnivals, and so much more. Then there are museums and attractions to visit, theme parks and movie sets, open-top tour buses, tourist trains, and harbour cruises, horse-riding, hiking and mountain-bike tracks, and a hundred other fun things to see and do, together.