Informationen über Organisation
Archäologische Stätten
ĦAL SAFLIENI HYPOGEUM
Burial Street, Paola, PLA 1116, Malta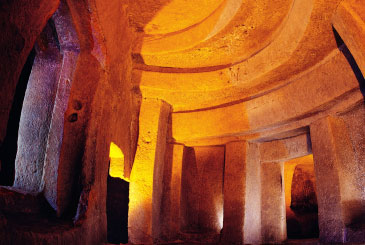 Das Hypogeum (der Name bedeutet unterirdische Höhle) ist ein einzigartiges Monument und ein grandioses Beispiel für Architektur nach unten. Bei den Ausgrabungen wurden enorme Mengen an archäologischen Funden gemacht, wie Tonware, menschliche Knochen, Schmuck aus Perlen oder Amuletten, kleine geschnitzte Tiere und größere Statuetten.
Das Hypogeum besteht aus Hallen, Räumen und Gängen, die aus dem lebendigen Fels geschlagen wurden und eine Fläche von etwas 500 Quadratmetern bedecken. Die ausgehöhlten Räume sind von verschiedenem Grundriss und Größe und von verschiedener handwerklicher Qualität. Die Struktur ist in drei Stockwerken gruppiert – das obere Stockwerk (3600 – 3300 v. Chr.), das mittlere Stockwerk (3300 – 3000 v. Chr.) und das untere Stockwerk (3150 – 2500 v. Chr.). Der tiefste Raum im untersten Stockwerk liegt 10,6 Meter unter dem Straßenniveau.
Im oberen Stockwerk finden wir eine enorme Höhle mit einem zentralem Durchgang und Grabkammern auf beiden Seiten. Im mittleren Stockwerk befinden sich verschiedene Räume, die so fein herausgearbeitet wurden, dass man den Eindruck von Mauerwerk hat.
Kontaktinformation
Kontakt:

Heritage Malta

Telefon:

+356 21805019

Telefon:

+356 22954000

Faxnummer:

+356 21222900
Ausstattung & Dienstleistungen
Alle gängigen Kreditkarten werden akzeptiert
Behindertengerecht
In der Stadt gelegen
Nichtraucher
Öffentliche Toiletten
Allgemeine Information
Anfahrt:

Simply take the bus to Paola town centre and follow the signs from
there.

Öffnungstage:

Montag
Dienstag
Mittwoch
Donnerstag
Freitag
Samstag
Sonntag

Öffnungszeiten:

Monday – Sunday: 0900hrs till 1600hrs. Closed: 24, 25 & 31 December, 1 January & Good Friday.