Información sobre organización
Archaeological Sites
HIPOGEO DE ĦAL SAFLIENI
Burial Street, Paola, PLA 1116, Malta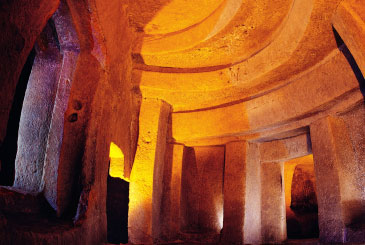 El Hipogeo, o cavidad subterránea, es un monumento único y un excelente ejemplo de la arquitectura en negativo. Las excavaciones han sacado a la luz una gran riqueza de material arqueológico, incluyendo alfarería, huesos humanos, adornos personales, como abalorios, cuentas de collares y amuletos, pequeños animales tallados y estatuillas.
El Hipogeo consta de salas, cámaras y pasadizos cortados en la roca viva y abarca unos 500 metros cuadrados. Las cámaras cortadas en la roca tienen diversas formas y tamaños, y están acabadas en diferentes niveles de confeccion. El complejo está agrupado en tres niveles – el nivel superior (3600-3300 años antes de Cristo), el nivel medio (3300-3000 años antes de Cristo) y el nivel inferior (3150-2500 años antes de Cristo). La habitación más profunda, en el nivel inferior, está a 10,6 metros por debajo de la superficie de la calle.
El nivel superior consta de una gran oquedad con un pasadizo central y cámaras funerarias cortadas a ambos lados. El nivel medio consta de varias cámaras con un acabado muy liso, que dan la impresión de estar construidas con mampostería.
Información de contacto
Contacto:

Heritage Malta

Teléfono:

+356 21805019

Teléfono:

+356 22954000

Fax:

+356 21222900
Instalaciones & Servicios
Facilidades para discapacitados
Localidad
No está permitido fumar
Principales tarjetas de crédito aceptadas
Servicios públicos
Información General
Cómo llegar:

Simply take the bus to Paola town centre and follow the signs from
there.

Días de apertura:

Lunes
Martes
Miércoles
Jueves
Viernes
Sábado
Domingo

Horarios de apertura:

Monday – Sunday: 0900hrs till 1600hrs. Closed: 24, 25 & 31 December, 1 January & Good Friday.