Informazione
Fortificazioni & Torri
FORTE ST. ANGELO
Vittoriosa Waterfront, Vittoriosa, Malta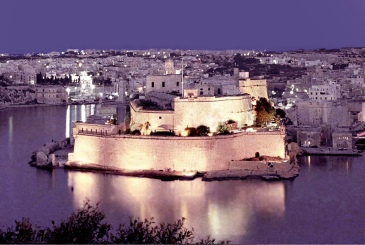 Il Forte Sant'Angelo è la punta di diamante dell'eredità storico-militare delle isole maltesi. Secondo la leggenda, il forte si erge sullo stesso luogo dove sorgeva un insediamento fortificato di epoca romana.
Quando i Cavalieri arrivarono sull'isola nel 1530, il forte divenne la sede del Gran Maestro dell'Ordine. Il forte ebbe un ruolo di primissimo piano nel Grande Assedio del 1565, quando, contro tutte le previsoni, una formidabile armata di saraceni venne sconfitta e respinta. L'epica resistenza dei Cavalieri durante i tre mesi dell'assedio diede al forte il suo stato leggendario.
Nel XIX secolo, gli inglesi conquistarono il forte e nel 1912 esso venne ufficialmente aggiunto alla lista delle navi, dapprima come HMS Egmont e poi, nel 1933, come HMS Sant'Angelo. Più di recente, il governo ha concesso all'Ordine dei Cavalieri di San Giovanni la parte superiore del forte che comprende il palazzo magistrale e la Cappella di Sant'Anna.
Servizi
Bagni pubblici
Cafe'
Località costiera
Parcheggio
Parcheggio per disabili
Ristorante
Informazioni Generali
Giorni d'apertura:

lunedi
martedì
mercoledì
giovedi
venerdì
sabato
domenica

Orari d'apertura:

Summer Hours: 1st April till 31st October. Monday to Sunday: 09.00 – 18.00hrs. Last admission: 17.30hrs. Winter Hours: 1st November till 31st March. Monday to Sunday: 09.00 – 17.00hrs. Last admission at 16.30hrs. Closed on 24, 25 & 31 December, 1 January & Good Friday.