Informationen über Organisation
Befestigungsanlagen und Türme
FORT ST. ANGELO
Vittoriosa Waterfront, Vittoriosa, Malta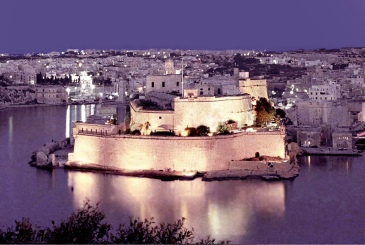 Fort St. Angelo ist das Juwel in der Krone des Militärerbes der Malteser Inseln. Der Legende nach steht das Fort auf den Grundmauern einer befestigten römischen Siedlung.
Als die Ritter die Insel 1530 erreichten, wurde das Fort der Sitz des Großen Meisters des Ordens. Es sollte eine heldenhafte Rolle während der Großen Belagerung von 1565 spielen, als es entgegen allen Erwartungen gelang, der schrecklichen Saracen Kriegsflotte entgegenzustehen. Der Widerstand der Ritter während der dreimonatigen Belagerung gab dem Fort seinen legendären Status.
Im 19. Jahrhundert übernahmen die Briten das Fort und führten es ab 1912 offiziell als Schiff, erst als HMS Egmont und ab 1933 als HMS St. Angelo. In jüngerer Zeit hat die Regierung dem Orden der St. Johannesritter den oberen Teil des Forts zugesprochen, was den Magistratspalast und die St. Anna Kapelle umfasst.
Ausstattung & Dienstleistungen
An der Küste gelegen
Behindertenparkplatz
Café
Öffentliche Toiletten
Parkmöglichkeit
Restaurant
Allgemeine Information
Öffnungstage:

Montag
Dienstag
Mittwoch
Donnerstag
Freitag
Samstag
Sonntag

Öffnungszeiten:

Summer Hours: 1st April till 31st October. Monday to Sunday: 09.00 – 18.00hrs. Last admission: 17.30hrs. Winter Hours: 1st November till 31st March. Monday to Sunday: 09.00 – 17.00hrs. Last admission at 16.30hrs. Closed on 24, 25 & 31 December, 1 January & Good Friday.