Comino
Tussen Malta en Gozo ligt Comino, dat een paradijs is voor snorkelaars, duikers, windsurfers en wandelaars. Comino is slechts drieëneenhalve vierkante kilometer groot, het is autovrij en afgezien van één hotel is het geheel onbewoond. De belangrijkste attractie van het eiland is de Blue Lagoon, een beschutte baai van glinsterend blauw water met een wit strand, uitstekend geschikt voor een dagtrip met een cruise of zeilboot.
Comino is zeker een bezoek waard. In de winter is het ideaal voor wandelaars en fotografen. U kunt hier de geur van wilde tijm en andere kruiden ruiken, zonder last te hebben van auto's of stedelijke gebieden.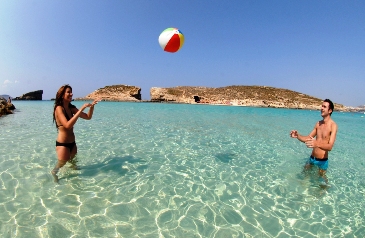 Tijdens de Romeinen was Comino bewoond, maar het had niet veel betekenis totdat de Ridders kwamen. Toen kreeg het twee functies: als jachtgebied en als vaste halte voor de verdediging van de eilanden tegen het Ottomaanse rijk.
Het eiland bleek een bruikbare basis voor piraten in de Middellandse Zee te zijn, en ook al is het eiland vandaag de dag kaal en onbegroeid, vroeger, in 1530, toen de Ridders arriveerden, kwamen er veel hazen en everzwijnen voor. De Grootmeesters deden veel moeite om de jacht op Comino te beschermen: een ieder die het jachtverbod overtrad kon rekenen op een straf van drie jaar als galeislaaf.
Na de Tweede Wereldoorlog, bleef Comino een vergeten gebied totdat er in het midden van de jaren zestig met de komst van het toerisme een voorspoediger tijd aanbrak.
Overnachten
Comino heeft één hotel, dat heel geschikt is voor mensen die wat langer willen blijven.