Informationen über Organisation
Befestigungsanlagen und Türme
FORT MADALENA
Triq Madliena, Madliena, Malta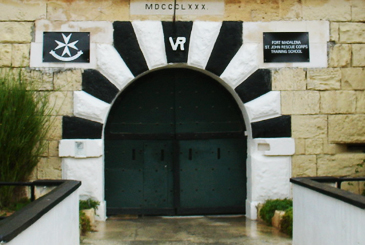 Fort Madalena wurde während der Herrschaft von Queen Victoria errichtet und ist Teil massiver Verteidigungslinien. Das Fort wurde in zwei Phasen errichtet, zuerst das fünfeckige Fort als Teil der Victoria Lines Abwehr [1878-1880], dann eine 9.2 Inch Küstenverteidigungs-Geschützgruppe, die der Seeseite des Forts hinzugefügt wurde.
Fort Madalena wurde später von der Royal Air Force als Kommunikationsposten benutzt. Die auf der Original-Struktur des Forts erbauten Gebäude stammen aus dieser Zeit. Heute ist das Fort Hauptquartier und Trainingseinrichtung des Johanniter Hilfsdienstes "St John Rescue Corps" und es werden regelmäßige Übungen dort abgehalten.
Fort Madalena ist Eigentum der Regierung von Malta und fällt unter die Zuständigkeit der maltesischen Armee.
Das St. John Rescue Corps ist eine Freiwilligenorganisation für Zivilschutz und humanitäre Hilfe unter der Schirmherrschaft des "Most Venerable Order of the Hospital of St. John of Jerusalem".
Das Fort ist an Samstag Nachmittagen von 14.30 bis 16.30 Uhr für Besucher geöffnet sowie unter der Woche nach Vereinbarung. Kein fester Eintrittspreis, Spenden zum Erhalt des Gebäudes sind willkommen. Zur Terminvereinbarung rufen Sie Mr. Andrew Pizzuto an unter der Mobilnr. 79283333 oder senden Sie eine E-Mail an: [email protected].
Ausstattung & Dienstleistungen
An der Küste gelegen
Ländlich gelegen
Allgemeine Information
Öffnungstage:

Öffnungszeiten:

By appointment