Informationen über Organisation
Archäologische Stätten
ĦAĠAR QIM
Triq Ħagar Qim, Qrendi, QRD 2501, Malta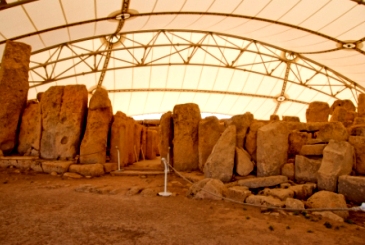 Der Tempel von Hagar Qim (ca. 3600 – 3200 v.Chr.) liegt auf einem Hügel mit Blick über das Meer und die Insel Filfla. Der Tempel selbst besteht aus einer einzelnen Tempeleinheit, obwohl nicht klar ist, ob er ursprünglich als vier oder fünf-Apsis Struktur konstruiert wurde.
Weitere Tempelruinen stehen wenige Meter vom Haupttempel entfernt und Vorhof und Fassade folgen dem typischen Muster der Tempel auf den Inseln. Besonders bemerkenswert sind die größeren Orthostaten an den Ecken.
Verschiedene interessante Objekte wurden in Hagar Qim ausgegraben, vor allem ein geschmückter Säulenaltar, zwei Tisch-Altäre und einige der "Fat Lady" Statuen, die im Archäologischen Nationalmuseum zu sehen sind.
| | |
| --- | --- |
| | HIER KÖNNEN SIE EIN PANORAMABILD SEHEN |
Kontaktinformation
Kontakt:

Heritage Malta

Telefon:

+356 21424231

Telefon:

+356 22954000

Faxnummer:

+356 21222900
Ausstattung & Dienstleistungen
Ländlich gelegen
Allgemeine Information
Anfahrt:

Take a direct bus to Ħagar Qim Park from Valletta.

Öffnungstage:

Montag
Dienstag
Mittwoch
Donnerstag
Freitag
Samstag
Sonntag

Öffnungszeiten:

Summer Hours: 1st April till 30th September. Monday to Sunday: 09.00-18.00hrs. Last admission at 17.30hrs. Winter Hours: 1st October till 31st March. Monday to Sunday: 09.00 – 17.00hrs. Last admission at 16.30hrs. Closed on 24, 25 & 31 December, 1 January & Good Friday.