Organisation Information
Archaeological Sites
ĦAĠAR QIM
Triq Ħagar Qim, Qrendi, QRD 2501, Malta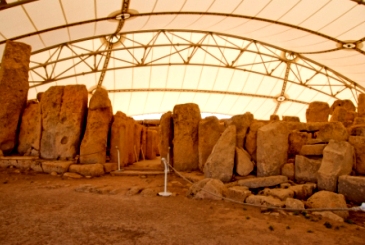 The temple of Hagar Qim (c. 3600 – 3200 BC) stands on a hilltop overlooking the sea and the islet of Filfla. The temple itself consists of a single temple unit, although it is not clear if it was originally constructed as a four or five-apse structure.
Other temple ruins stand a few metres away from the main temple and the forecourt and facade follow the pattern typical of temples across the Islands. Particularly noteworthy are the larger orthostats at the corners, which are notched to take the second of the horizontal courses above.
Various items of interest have been unearthed at Hagar Qim, notably a decorated pillar altar, two table-altars and some of the 'fat lady' statues on display in the National Museum of Archaeology.
Contact Information
Contact:

Heritage Malta

Phone:

+356 21424231

Phone:

+356 22954000

Fax:

+356 21222900
Facilities & Services
Countryside Location
General Information
How to get there:

Take a direct bus to Ħagar Qim Park from Valletta.

Opening Days:

Monday
Tuesday
Wednesday
Thursday
Friday
Saturday
Sunday

Opening Hours:

Summer Hours: 1st April till 30th September. Monday to Sunday: 09.00-18.00hrs. Last admission at 17.30hrs. Winter Hours: 1st October till 31st March. Monday to Sunday: 09.00 – 17.00hrs. Last admission at 16.30hrs. Closed on 24, 25 & 31 December, 1 January & Good Friday.