Información sobre organización
Archaeological Sites
ĦAĠAR QIM
Triq Ħagar Qim, Qrendi, QRD 2501, Malta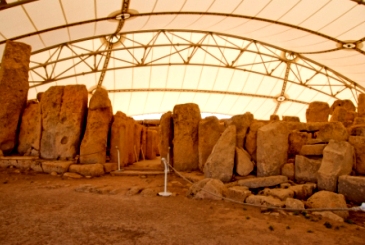 El templo de Hagar Qim (de los años 3600 – 3200 antes de Cristo) está en una colina frente al mar y al islote de Filfla. El templo consta de una sola unidad, aunque no está claro si fue construido originalmente como una estructura de cuatro o cinco ábsides.
A unos pocos metros de distancia del templo principal están las ruinas de otro templo, y el patio delantero y la fachada siguen el mismo diseño típico de los templos en las islas. Cabe destacar los grandes ortostatos que están en las esquinas, que tienen muescas para la segunda de las hiladas horizontales en la parte superior.
En Hagar Qim se han descubierto varios objetos de interés que estaban enterrados, especialmente la columna de un altar, dos mesas de altares y algunas de las estatuas de venus esteatopígicas que se exhiben en el Museo Nacional de Arqueología.
| | |
| --- | --- |
| | VER IMAGEN PANORÁMICA |
Información de contacto
Contacto:

Heritage Malta

Teléfono:

+356 21424231

Teléfono:

+356 22954000

Fax:

+356 21222900
Instalaciones & Servicios
Localización en el campo
Información General
Cómo llegar:

Take a direct bus to Ħagar Qim Park from Valletta.

Días de apertura:

Lunes
Martes
Miércoles
Jueves
Viernes
Sábado
Domingo

Horarios de apertura:

Summer Hours: 1st April till 30th September. Monday to Sunday: 09.00-18.00hrs. Last admission at 17.30hrs. Winter Hours: 1st October till 31st March. Monday to Sunday: 09.00 – 17.00hrs. Last admission at 16.30hrs. Closed on 24, 25 & 31 December, 1 January & Good Friday.