Dive Sites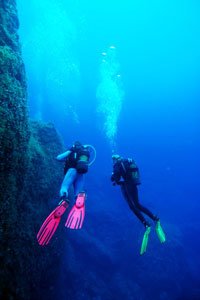 The three islands that make up the Maltese Archipelago – Malta, the largest; Gozo, the mythical isle of Calypso; and tiny Comino, famous for its Blue Lagoon – form a very special diving site at the heart of the Mediterranean.
The islands invite you to discover their natural harbours, bays, sheltered creeks, cliffs, reefs and wrecks. The waters here are some of the most limpid and clear in the world. Visibility is excellent down to around 30 metres. So Malta is a dream destination for underwater photography. Marine life flourishes in a vibrant display of colours.
With dive sites just a stone's throw away from each other, you will be able to explore a variety of underwater worlds. We've listed some of the best known dive sites ranging from labyrinthine caves to reefs and wartime wrecks.
For more excitement, try a night dive or dive deeper to 30 or 40 metres. Colours appear almost fluorescent by torchlight. For the more experienced, these dives offer a unique adventure.
Check out some recommended SHORE DIVES and BOAT DIVES.
Conservation Areas around Wrecks
A number of conservation areas have been established around submerged wrecks located in Maltese waters. At present, there are seven such conservation areas, namely:
The Um el Faroud in Wied Iż-Żurrieq
MV Xlendi, Cominoland, Karwela off Xatt l-Aħmar
Tug St. Michael, Tug 10 in Marsaskala
The Imperial Eagle off Qawra Point
Rożi, P29 off Ċirkewwa
Blenheim Bomber off Xrobb l-Għaġin
Bristol Beaufighter off Exiles Point
Images featured in this section are derived from: SCUBA DIVING MALTA GOZO COMINO – 3rd edition – The Ultimate Guide to Diving the Maltese Islands by Peter G. Lemon. All rights reserved. Copyright material used by permission from the author.