Events
So much to do in Malta & Gozo!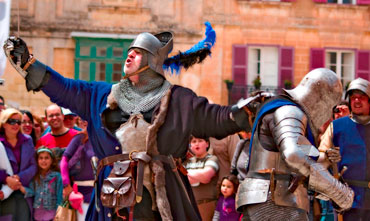 Malta boasts of an events calendar featuring an eclectic blend of local and international entertainment, exhibitions, festivals and feasts.Whatever your particular area of interest may be, you are sure to find activities which will appeal to you. Choose from performances by international contemporary music stars, classical music concerts and jazz festivals, amongst many others.
Malta's vibrant performing arts scene also offers a surprisingly diverse repertoire of theatre, opera, and dance. Moreover, the Maltese islands play host to an exciting array of international sporting events. If you are looking for an authentic Maltese experience, then look out for traditional events such as our village festas, Carnival and Holy Week celebrations.
The Maltese are amongst the warmest people you will find in the Mediterranean. With our desire to enjoy life, we will be more than happy to have you share in our fun and joy!