Organisation Information
Archaeological Sites
BORĠ IN-NADUR TEMPLES
Borġ in-Nadur, Birżebbuġa, Malta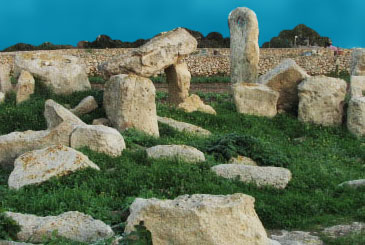 These temples ruins are situated in the southern area of Malta and are important because they appear to reveal not only a four-apse temple (c.2000 BC), but also a fortified, Bronze Age domestic settlement.
The remains of a large, defensive wall lie nearby, running across the head of a promontory between two valleys leading down to two bays. The wall was built facing the inland, and thus the village would have the sea to its back. This logistic situation leads scholars to believe that the people living in the village were much more afraid of being attacked from the land rather than the sea.
Traces of the Bronze Age huts were discovered lying just behind the wall and the depth of the deposits was very shallow, covering the remains of the Temple Period.
Contact Information
Contact:

Heritage Malta

Phone:

+356 22954000

Fax:

+356 21222900
Facilities & Services
Countryside Location
General Information
Opening Days:

Monday
Tuesday
Wednesday
Thursday
Friday
Saturday
Sunday

Opening Hours:

This site is open by appointment only. To arrange a visit to these sites please phone +356 22954000.