Organisation Information
Parks
FORESTA 2000
Mellieħa, Malta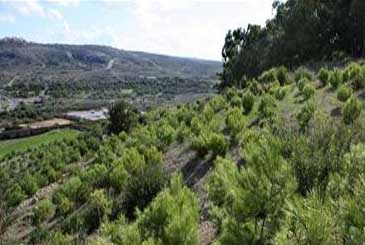 The aim of Foresta 2000 is to restore an area of natural habitat and turn it into a stretch of Mediterranean woodland. As the forest grows, it provides food and shelter for birds, insects and other wildlife, and in this way enrich the ecosystem and increase biodiversity. Foresta 2000 should be a magnet for people wishing to explore and enjoy nature, and for this reason the site is open 24 hours a day, 365 days a year, and access is free of charge.
In the past, much of the site was heavily terraced and turned into small cultivated fields. Areas bare of soil or too steep for agriculture were left unworked. Most of these fields were eventually abandoned, and many retaining drystone walls gradually collapsed. Despite the years of neglect or direct damage to the site, over 200 species of plants have been recorded at Foresta 2000. Thanks to the woodland project, the flora at Foresta 2000 will diversify further. The main vegetation habitats at Foresta 2000 are steppe, woodland, maquis and garrigue.
The different habitats at Foresta 2000 attract a varied fauna. Some are resident animals, while others – like birds and butterflies on migration – only stay temporarily. As re-afforestation progresses and the trees and shrubs mature, the vegetation creates more cover and shelter for fauna. Many of the trees and shrubs also produce a rich food source in leaf, flower and fruit. This encourages a rich and healthy biodiversity.
Visitors to Foresta 2000 are asked to observe a basic countryside code. Respect should be shown to all forms of wildlife. Visitors should refrain from picking wild flowers or berries – however common these may be – or catching/handling animals. Bird hunting or trapping is forbidden as the site falls within the Ghadira Bird Sanctuary area. To minimise trampling, one should keep to the footpaths. Many thousands of young trees, shrubs and other plants are growing at Foresta: straying from the path may result in the trampling and killing of these saplings. Only foot access is allowed: vehicles (including bicycles) are off limits. While stopping for a picnic is welcome, camping is not allowed on site. It is forbidden to leave any form of litter – organic or otherwise – on site. No barbecues or fires are allowed on site. Smokers are especially asked to be careful, as fire is a very real hazard at Foresta 2000, especially in the dry period.
Contact Information
Contact:

Birdlife Malta,

Phone:

+356 21347644

Phone:

+356 21347646
Facilities & Services
Countryside Location
No Smoking
General Information
Opening Days:

Monday
Tuesday
Wednesday
Thursday
Friday
Saturday
Sunday