Organisation Information
Parks
GĦADIRA NATURE RESERVE
Marfa Road, Mellieħa, Malta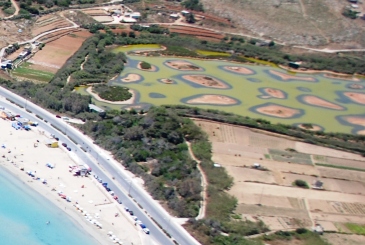 Ghadira Nature Reserve in Mellieha and Is-Simar Nature Reserve in Xemxija are the largest remaining areas of salt marsh in Malta and are designated as Wetlands of International Importance. They provide a variety of habitats for resident breeding birds and visiting migrants, including dry and wet reed beds, lakes dotted with small islands, olive groves and other indigenous wooded areas.
Visitors to the reserves should keep an eye (and an ear) out for the resident Moorhens and Coots on the lakes, as well as migrating birds visiting the reserves, including majestic Grey Herons and Little Egrets, shy Water Rails hiding in the reed beds, gregarious Starlings in trees and, if you're lucky, Kingfishers darting from perch to perch over the water.
These and many other birds over-winter in the reserves before returning to their European breeding grounds, but some stay to breed in the reserves, like the Little-ringed Plover, which breeds nowhere else in Malta.
The public bird-watching hides give visitors the opportunity to observe the birds' natural behaviour in their natural habitat, an intimate wildlife experience it is difficult to get anywhere else in Malta.
As well as birds, the reserves support a rich variety of other wildlife, including reptiles such as snakes, geckos and chameleons, numerous insect species and even rare protected fish in the lakes.
The Ghadira Reserve is open to the public every Saturday and Sunday between 10.30am and 4.30pm from November to May, throughout the autumn, winter and spring months. Entrance to the reserves is free of charge and guided walks lead by friendly and experienced reserve staff and volunteers are organised every hour throughout the weekend. Donations are welcome.
From Monday to Friday during the school year the reserves are open to school visits as part of BirdLife Malta's Dinja Wahda environmental education programme.
The Reserve is a NO SMOKING AREA. No pets are allowed inside.
Contact Information
Contact:

Birdlife Malta

Phone:

+356 21347644

Phone:

+356 21347646
Facilities & Services
Countryside Location
No Pets
No Smoking
Seaside Location