Organisation Information
Boat Diving
HMS RUSSELL
near Valletta, Malta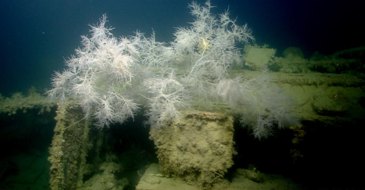 Photo Credit: University of Malta
To maintain the supremacy in 1889 Britain embraced the doctrine that the Royal Navy's establishment should be equal to the combined naval strength of any two other countries. In 'reply' to Russian Peresviet class of battleships capable of challenging the British, Sir William White was asked by the Admiralty to prepare 'fast' battleship. He applied weight saving measures so the ships known as the Duncan Class could gain extra speed.
HMS Russell was launched On Tuesday, 19 February 1901 at the shipyard of Palmers Shipbuilding and Iron Company Ltd. in the country of Durham, England as the first out of six Duncan class ships. She was named after Admiral Edward Russell (1653-1727), 1st Earl of Oxford as the fourth English ship by that name. Prior to World War I she served in the Mediterranean, Home and Atlantic Fleet.
At the outbreak of World War I, the Russell together with her surviving sister ships of the Duncan class, were assigned to the Grand Fleet. A year later, the Grand Fleet moved to the Gallipoli Peninsula, so as to reinforce the British Squadron deployed there. After the conclusion of the maligned Gallipoli campaign, the Russell stayed on in the eastern Mediterranean.
On April 1916 it was to her way to return at Malta to spend a fortnight there resupplying, undergoing minor dockyard repairs and giving the crew an opportunity for some shore leave. The German minelayer submarine SM U-73 bound for the Mediterranean Sea arrived off the coast of Malta on the night of 25 April and by midnight they began laying mines off the entrance of Valletta Harbour.
On the morning of Thursday, 27 April, HMS Russell was proceeding towards the Grand Harbour. While the ship was on a steady course and one mile off "C" Channel, a violent explosion took place at the port side aft, abreast the Ward Room hatch. Shortly afterwards and a little further forward, another explosion of the same sort occurred. Then a third explosion occurred, not as violent as the previous two. Of the 720-crew members, 124 lost their lives including most of the officers.
Today, the Russell lies upside down in approximately 115 metres of water.
Warnings:
Delicate and protected marine flora

War Grave

Unexploded Ordnance
This is one of the the wrecks managed by the Underwater Cultural Heritage Unit (UCHU) within Heritage Malta. For information regarding other wrecks managed by Heritage Malta, click here.
Contact Information
Contact:

Heritage Malta – Underwater Cultural Heritage Unit

Phone:

+356 79004141
General Information
Maximum Depth in Metres:

110