Organisation Information
Towns & Villages
VALLETTA
Republic Square, Valletta, VLT 1410, Malta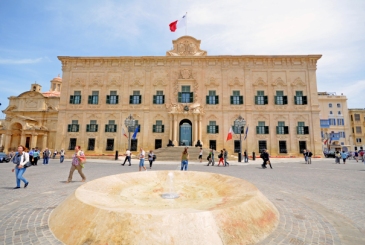 Valletta, The Fortress City, Citta' Umilissima, "A city built by gentlemen for gentlemen". These are some of the names given to Malta's capital city: a living, working city, the administrative and commercial heart of the Islands.
Valletta is named after its founder, the respected Grand Master of the Order of St. John, Jean Parisot de la Valette. The magnificent fortress city grew on the arid rock of Mount Sceberras peninsula, which rises steeply from two deep harbours, Marsamxett and Grand Harbour.
Started in 1566, Valletta with its impressive bastions, forts and cathedral, was completed in the astonishingly short time of 15 years.Valletta has many titles, all recalling its rich historical past. It is the "modern" city built by the Knights of St John; a masterpiece of the Baroque; a European Art City and a World Heritage City. Today, it is one of the most concentrated historic areas in the world.
The city is busy by day, yet retains a timeless atmosphere. The grid of narrow streets boasts some of Europe's finest art works, churches and palaces.
Hosting a vast cultural programme, walking around Valletta you'll come across an intriguing historical site around every corner: votive statues, niches, fountains and coats of arms high up on parapets. Narrow side streets are full of tiny quaint shops and cafés, while Valletta's main streets are lined with larger international branded shops for fashion, music, jewellery and much more.
Contact Information
Contact:

Valletta Local Council

Phone:

+356 21234141

Phone:

+356 21251397

Fax:

+356 21251396
Facilities & Services
Disabled Facilities
Disabled Parking
Parking
Public Payphone
Public Toilets
Restaurant
Shops within 1 km
Town/City Location
WiFi