Organisation Information
Parks
XROBB L-GHAGIN PARK
limits of Marsaxlokk, Malta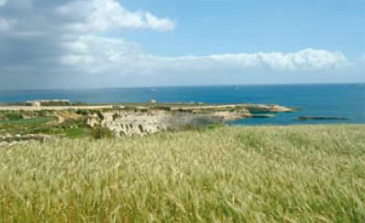 The park is located in the Southeastern tip of Malta within the locality of the famous fishing village of Marsaxlokk.
Situated on a jutting limestone peninsula just a few metres away from the sea Xrobb l-Għaġin can be reached on foot/by bicycle from either of these 3 localities (which are served by public transport): Marsaxlokk, Żejtun, Marsascala/St Thomas Bay or by car from Marsaxlokk.
The park consists of over 155,000 square metres on a jutting peninsula with scenic views visible from within the park including the Delimara peninsula, the natural arch at Ras il-Fenek and the white cliffs of Munxar.
PREHISTORY
Neolithic Remains
Within the site at the edge of the cliffs lie the remains of a little known prehistoric temple described by Sir Temi Zammit as "a neolithic station of the first order". The area was investigated by the latter in 1914-5 together with Dr A.V. Laferla (see photos). It appears to have had a SSE orientation having a typical temple plan with a paved court and an inner passage leading to two apses and a central niche. Since then the rapidly eroding cliffs have resulted in the loss of most of the temple site. It is not recommended for viewing due to the eroding cliffs on site. The massive stone slab with pitted decorations can be seen at the National Museum of Archaeology.
THE DEUTSCHE WELLE RELAY STATION
Between 1974 and 1995 the area housed a Relay Station forming part of the Deutsche Welle relay network equipped with three 250 kW short wave transmitters and one 600 kW medium wave transmitter. Target areas for the Malta Relay Station were mainly in North Africa and the Middle East, although transmissions were also made to Asia and North America. Curtain antennas used for short wave transmission were suspended between three 99 metre high towers on the south easterly tip whilst the medium wave antenna consisted of a three-mast installation with each mast 88 metres high set up on the northwesterly part of the site. Deutsche Welle closed down its operations in Malta in 1995 and the station was dismantled the following year.
Ta' Bettina Tower built around 1740 by the Maltese noble family of Dorell.
Remains of the 17th Century Coastal Watch-tower in the background.
Salt pans for salt extraction (still in use).
Chapel dedicated to St. Paul's Shipwreck (private) which was also built around 1740 by the Maltese noble family of Dorell.
Xrobb l-Għaġin Military Entrenchments.
Old building possibly used for storage of salt in the past.
Facilities & Services
Coastal Location
Countryside Location
Parking