Marine Life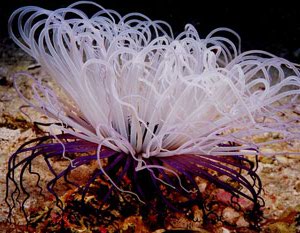 The combination of sheer cliffs, caves, wrecks, shelves and sandy and rocky sea beds, means there is a large variety of fauna and flora to see in the Maltese waters. It would be too difficult to list them all. Wrecks, as artificial reef habitats, have provided a home for a greater number of species in recent years and make excellent dive sites.
Species you are likely to see include groupers, amberjack, various bream, octopi, squid, flying fish, gurnard, stingrays, meagre, bogue, red mullet, parrot fish and the occasional moray eel. Although the rocky structures and underwater coast seem ideal living conditions for eel, you tend to see them mostly during night dives.
The chance of meeting a big game fish is almost non-existent. Rare sights include tuna, dolphins and bonitos, though there is more chance of seeing these large fish in winter when they come closer to shore, attracted by the warmer waters.
John Dory are also occasionally spotted, mostly during wintertime, since they normally live a greater depths. Corals are also found on arches, reefs and caves. They glow a wonderful orange to pink colour and are particularly excellent to photograph at night.
There are a few sea animals to watch but not handle as they have vicious or poisonous bristles and spines. Keep your eyes open for the scorpion fish, bristleworms, sea urchins and the stingray. If you do step on or touch one of these fish, seek medical attention as your reaction to the injury will depend on your general medical condition and age.
I