Natural Escapes
Due to the undoubtedly great advantage of fair weather, the Maltese Islands lend themselves well to outdoor activities.
Away from the hustle and bustle of village cores, the Maltese Islands offer various natural spots to be explored and admired, some left almost untouched by modernity. Much of the countryside is dotted with the world's oldest free-standing structures, so a stroll could prove to be most interesting.
The first rains after the long, hot summer brings the landscape to life with an astonishing variety of wild flowers and plants. From mid-November until mid-May, the Islands are green and lush with fields full of vegetables and waysides carpeted with fennel, clover, wild iris and myrtle.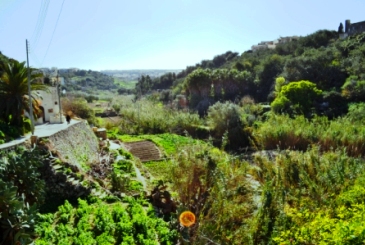 The Islands offer walkers some of the most stunning views anywhere in the Mediterranean. The first thing to do is to decide what sort of view you prefer – dramatic cliffs plunging into waves, the rocky, scrubland of the garrigue or hidden, lush valleys. En route, you'll come across mysterious prehistoric sites, medieval chapels and secluded palaces of the Knights.
Gozo is extremely popular with both locals and tourists alike for its serenity and quiet beauty. Often referred to as "the land where time stood still", Malta's sister Island is excellent walking country.
One of the best walks is along Dingli Cliffs. It's truly spectacular to watch the sun set over the sea from the highest area in Malta where the land falls away at a spectacular 220m height. These cliffs offer remarkable coastal views.
The island of Comino was once reportedly the hideout of pirates and smugglers and is only 2.5km by 1.5km in size, so it's ideal for a good day's hiking and the ultimate in solitude and views.
For those who are up for a challenge, the Islands offer some testing scenery to tempt the avid rock climber.
Put on walking boots, hire a mountain bike and head out from the village squares on the narrow farmers' tracks. You'll find yourself in a timeless landscape, quite alone even in peak season. There is plenty to discover, from ancient farmhouses and wayside chapels to spectacular seascapes. The Islands are hardly large enough to ever really get lost in and there's always a friendly face to guide you.