Traditional Maltese Cuisine
Maltese food is rustic in character, full of the flavour and colour typical of a central Mediterranean Island. Our food is influenced by Malta's proximity to Sicily and North Africa but with a special slant all our own.
Traditional food accompanies us through life; a glass of smooth local wine with friends in a village bar comes with a dish of olives, some ġbejniet (local sheep's cheeses), zalzett (coriander flavoured Maltese sausage) with galletti (Maltese crackers) and some bigilla (broad bean pate) served with Maltese bread and olive oil; or on a cold day hot pastizzi (savoury ricotta filled pastries) are perfect with wine or coffee. Summer days at the beach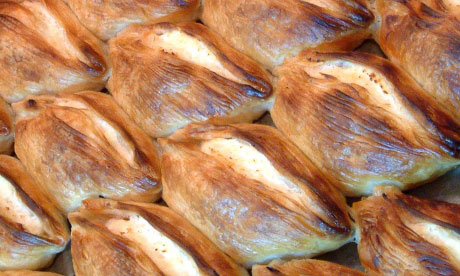 means ħobs biż-żejt, a popular snack made from a thick slice of crusty Maltese bread, rubbed with juicy, red tomatoes and topped with mint, a little onion, sheep's cheese and anchovies all soaked in delicious green olive oil; a taste of sunshine, a taste of Malta.
Winter nights bring on bowls of golden minestra, a very thick vegetable soup served with Maltese bread and oil. Fish, fresh from the surrounding Mediterranean Sea, plainly cooked is a consistent feature of our cuisine, especially aljotta, a delicious garlicky fish soup.
Summer village festivals produce sweet street foods like imqaret (date pastries) and Qubbajt (nougat) to enjoy along with the fireworks and processions. Special family meals bring on serious dishes like Ross fil-forn, (Baked Rice), Imqarrun (baked Macaroni) or Timpana (a very special rich pasta baked in a pastry case) often followed by rabbit or meat dishes served with Maltese potatoes and vegetables.
Desserts depend on the occasion; Easter Figolli (almond stuffed pastry figures), Christmas qagħaq tal-għasel (honey rings), or simply a Cassata, (ricotta filled sponge with marzipan) some Kannoli, (Ricotta filled fried pastries) or another of the many traditional desserts, and sweet biscuits are popular snacks, perfect with a cup of strong coffee.
– Matty Cremona, Maltese Cuisine Gastronomist