Types of Courses
The language schools in Malta and Gozo offer a wide selection of courses and leisure programmes. Whether you're a student looking to improve your skills in the academic world, a business person with assignments in foreign countries, or just for fun, as a learning holiday, you will definitively find a course to suit your needs.
Vacation Courses
Malta in summer is the time young people from across the globe visit the Islands. You may be part of an organised group, but if not, don't worry. In Malta, you make friends easily.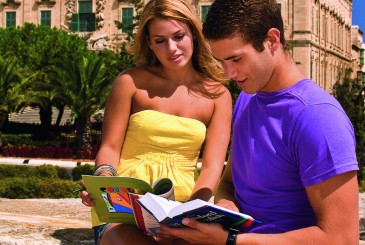 Summer vacation courses offer a unique combination of sound academic learning with a rich programme of activities. Vacation courses are usually run by young, dynamic teachers who create a relaxed atmosphere just right for summer learning. Most schools focus on interactive lessons with study based on topical issues popular with young students. The aim is to encourage students to equate learning English with fun.
If you're a parent sending an unaccompanied youngster, destination Malta makes sense. It's a safe, pleasant environment and activities are organised and supervised.
Adult, Business and Special Interest
The islands give you time to escape day-to-day pressures so you can relax and enjoy language learning whether your motives are business or recreational, and schools realise that you have a variety of reasons for learning English. They will spend time making sure you are placed alongside others with similar language needs and of a similar ability. If meeting people and just chatting in English is what you want, then Malta, a meeting place of cultures for thousands of years, is one of the best places to come to.
The relaxed atmosphere is also ideal if you need to learn specifically for work, or to spend several months preparing for an exam. Most schools ensure you improve your command of the specific vocabulary and structures you need within the general language context.
With English the language of education and business on the Islands, many schools organise trips to firms not just for language practice but to promote business know-how and cultural exchange.
To make the most of your limited time here, especially if you're learning one-to-one, schools can arrange for lessons in your hotel or residence.