Getting Around in Valletta
Unlike other European capitals, which grew from small settlements into villages, towns and eventually cities, Valletta was built on a plan. Highly advanced for the time, the Valletta city plan was based on a grid system – a bit like modern-day Manhattan – with parallel streets criss-crossed at right angles. This makes the Maltese capital very easy to navigate.
Valletta is small in size, and it is quite possible for most people to explore the whole city on foot. Get hold of a good street map – or use the one on your mobile device – and you can get around town without any problem. However, do keep in mind that Valletta is quite hilly, and some streets dip rather steeply towards the harbour. Luckily, the original town-planners thought of minimising discomfort for walkers by introducing steps on the steeper streets.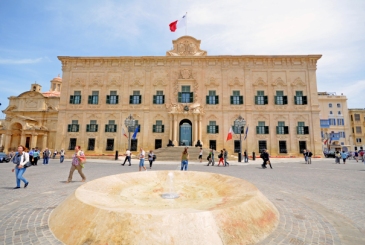 It is also quite possible to cycle around the city, although cyclists should be wary of the sloping streets and the fact that cycle lanes are somewhat rare.
Driving in the city can be a little problematic, especially when it comes to negotiating tight corners and one-way streets. Parking is also limited, because in addition to the resident population, many more drive into the city for business. So it is recommended that you use one of the car-parks located outlide the city and then walk or use public transport. There is an efficient Park-and-Ride service in Floriana with regular shuttle buses to and from Castille Place, at the top of Merchants Street.
Travelling to Valletta by public transport is easy. Many of the buses start and finish their journey at the Main Terminus just outside City Gate. The Malta Public Transport company also operates a convenient circular route around Valletta. For more info go to http://www.publictransport.com.mt.
A system of electric cabs is also in operation within Valletta. A romantic alternative is to use horse-drawn carriages known as Karozzin.
Whatever means of transport you choose to adopt, you will find that Valletta is highly accessible, and the locals are always eager to show you the way.