Water Sports
The sea has coloured our history and it colours any visit to the Islands. It is sensuous in summer and restless in winter, and always great to be by, in or on. Here are a few ideas on enjoying some of the clearest, warmest waters in the Mediterranean.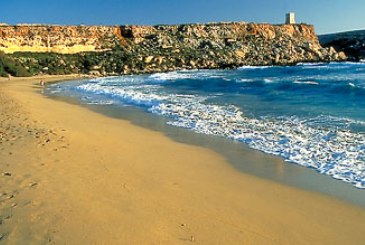 The simplest is to relax on the beach. Explore a little from the main resorts and discover sandy coves and rocky inlets almost deserted, even in high summer. Malta and Gozo's beaches are largely untouched by development. Many beaches offer watersports from windsurfing to sea-kayaking and jet ski hire. The more adventurous can try water-skiing, wakeboarding, or paragliding. Other watersports include waterpolo, canoeing, fishing, yachting and sailing.
Use our interactive map to see where the beaches and bays in the Maltese Islands are, as well as the various clubs and facilities.
The Maltese Islands are also a paradise for diving . The sea is warm all year and offer excellent visibility. Seek out unusual underwater inhabitants in the sunken wrecks of Malta's maritime past. But you only need a snorkel to gain some access to the secrets of the waterworld.
Sailing and Yachting
The Islands are superb for sailing and yachting. Come in October and see the exciting Rolex Middle Sea Race. Schools offer lessons for the active while harbour cruises are ideal for those who prefer to relax on board. For more information visit http://www.maltayoungsailors.com/euromed/ and http://www.yachtinginmalta.com.mt/ .
Want to compete? Want to watch?
You can never predict the sea, so it makes for some tough competition and thrilling spectator sports. There are plenty of opportunities to test yourself against elements and other competitors. Check our events calendar for some sports highlights. And remember – Safety comes first!
Winter Training
Malta's climate lends itself to all-year-round water sports. The Islands host teams seeking a dedicated, but relaxed, training location. Swimmers, waterpolo teams and those who are engaged in other watersports can train at the Olympic size National Pool and other facilities. For info on who can help and where to train, use our interactive map or go to Training Camps page.