Informazione
Siti Archeologici
I TEMPLI DI ĠGANTIJA
John Otto Bayer Street, Xagħra, Gozo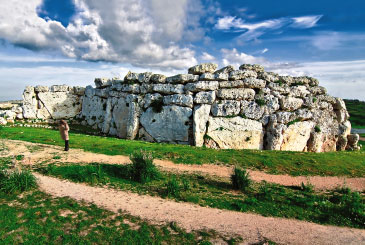 I templi di Ggantija a Xaghra, Gozo, rappresentano uno dei siti più importanti al mondo e risalgono al 3600-3200 a.C. A causa delle dimensioni gigantesche dei megaliti, nei secoli passati, alcune persone del posto ritenevano che i templi fossero opera dei giganti. Il sito particolare di Gozo conferma questa antica leggenda: il suo nome, Ggantija, significa gigante in maltese.
Il complesso megalitico di Ggantija è formato da due templi circondati da un massiccio muro di confine in comune, costruito usando alternativamente mattoni di punta e mattoni di piano, con alcuni dei megaliti che superano la lunghezza di 5 metri e il peso di 50 tonnellate. Costruito con blocchi grezzi di calcare corallino, ciascun tempio contiene cinque absidi collegate da un corridoio centrale che conduce alla sezione trilobata più interna.
| | |
| --- | --- |
| | VEDI IMMAGINE PANORAMICA |
Informazioni di contatto
Contatta:

Heritage Malta

Telefono:

+356 21533194

Telefono:

+356 22954000

Fax:

+356 21222900
Servizi
Località di campagna
Informazioni Generali
Come arrivare:

Take a bus to the town of Xagħra and follow the signs.

Giorni d'apertura:

lunedi
martedì
mercoledì
giovedi
venerdì
sabato
domenica

Orari d'apertura:

Monday – Sunday: 0900hrs till 1700hrs. Last admission: 1630hrs. Closed: 24, 25 & 31 December. 1 January & Good Friday.