Información sobre organización
Archaeological Sites
ĠGANTIJA
John Otto Bayer Street, Xagħra, Gozo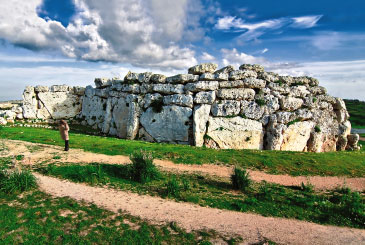 Los templos de Ggantija en Xaghra, Gozo, constituyen uno de los sitios arqueológicos más importantes del mundo y datan aproximadamente de los años 3600 a 3200 antes de Cristo. Debido a las gigantescas dimensiones de los megalitos, en siglos pasados algunos habitantes de esta localidad creían que los templos fueron obra de gigantes. Este lugar de Gozo en particular tiene el nombre que corresponde a esta antigua leyenda: Ggantija, que en idioma maltés significa gigante.
El complejo megalítico de Ggantija consta de dos templos rodeados por una muralla que se construyó utilizando la técnica alternativa de «header and stretcher«, con algunos de los megalitos que tienen más de cinco metros de longitud y pesan más de cincuenta toneladas. Construidos con bloques de piedra caliza coralina rugosa, cada templo tiene cinco ábsides conectados con un corredor central que conduce a la sección del trifolio más recóndita.
Información de contacto
Contacto:

Heritage Malta

Teléfono:

+356 21533194

Teléfono:

+356 22954000

Fax:

+356 21222900
Instalaciones & Servicios
Localización en el campo
Información General
Cómo llegar:

Take a bus to the town of Xagħra and follow the signs.

Días de apertura:

Lunes
Martes
Miércoles
Jueves
Viernes
Sábado
Domingo

Horarios de apertura:

Monday – Sunday: 0900hrs till 1700hrs. Last admission: 1630hrs. Closed: 24, 25 & 31 December. 1 January & Good Friday.