Informationen über Organisation
Archäologische Stätten
ĠGANTIJA TEMPEL
John Otto Bayer Street, Xagħra, Gozo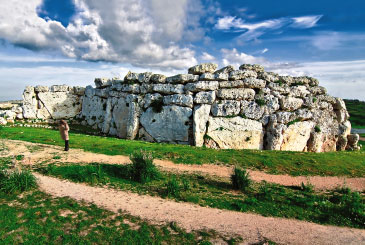 Die Ggantija Tempel in Xaghra, Gozo, sind eine der wichtigsten archäologischen Stätten der Welt und gehen auf die Zeit von 3600 bis 3200 v. Chr. zurück. Aufgrund der gigantischen Maße der Megalithen glaubte die Bevölkerung in den vergangenen Jahrhunderten, dass diese Tempel das Werk von Riesen waren. Der Name dieses besonders großen Tempels auf Gozo bezeugt diese antike Legende: Ggantija ist das maltesische Wort für Riese.
Der Megalith-Komplex von Ggantija besteht aus zwei Tempeln, umgeben von einer massiven Grenzmauer, erbaut mit der Technik von Bindern und Läufern, wobei einige der Megalithen länger als fünf Meter und mehr als 50 Tonnen schwer waren. Die Tempel wurden aus groben, korallinen Kalksteinblöcken erbaut und haben fünf Apsiden, die durch einen zentralen Korridor verbunden sind, über den man in den innersten Bereich mit einem Kleeblattbogen kommt.
NOTE: The Hypogeum will be closed from 9th January 2016 due to conservation and restoration works.
Kontaktinformation
Kontakt:

Heritage Malta

Telefon:

+356 21533194

Telefon:

+356 22954000

Faxnummer:

+356 21222900
Ausstattung & Dienstleistungen
Ländlich gelegen
Allgemeine Information
Anfahrt:

Take a bus to the town of Xagħra and follow the signs.

Öffnungstage:

Montag
Dienstag
Mittwoch
Donnerstag
Freitag
Samstag
Sonntag

Öffnungszeiten:

Monday – Sunday: 0900hrs till 1700hrs. Last admission: 1630hrs. Closed: 24, 25 & 31 December. 1 January & Good Friday.