3rd Party Organisation Information
Régészeti helyszínek
ĠGANTIJA TEMPLES
John Otto Bayer Street, Xagħra, Gozo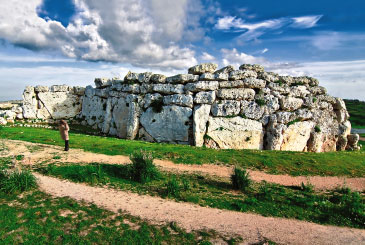 GGgantija Temples are one of the most important archaeological sites in the world and date from around 3600 to 3200 BC.
Due to the gigantic dimensions of the megaliths, locals believed that the temples were the work of giants. This particular temple site in Gozo bears witness to this ancient legend: its name, Ggantija, is Maltese for giant.
The Ggantija megalithic complex consists of two temples surrounded by a massive common boundary wall, which was built using the alternating header and stretcher technique, with some of the megaliths exceeding five metres in length and weighing over fifty tons.
Built with rough, coralline limestone blocks, each temple contains five apses connected by a central corridor leading to the innermost trefoil section.
Elérhetőségek
Elérhetőség:

Heritage Malta

Telefon:

+356 21533194

Telefon:

+356 22954000

Fax:

+356 21222900
Felszereltség és szolgáltatás
Vidéki elhelyezkedés
Általános információ
Hogyan közelíthető meg?:

Take a bus to the town of Xagħra and follow the signs.

Nyitvatartási napok:

Hétfő
Kedd
Szerda
Csütörtök
Péntek
Szombat
Vasárnap

Nyitvatartási idő:

Monday – Sunday: 0900hrs till 1700hrs. Last admission: 1630hrs. Closed: 24, 25 & 31 December. 1 January & Good Friday.