Informationen über Organisation
Archäologische Stätten
TEMPEL VON TA' ĦAĠRAT
St. Peter Street, Mġarr, MĠR 1541, Malta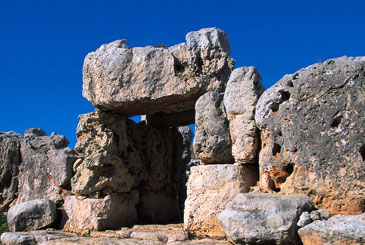 Die zwei Tempel von Ta' Hagrat, datierend auf 3600 – 3200 v. Chr., sind mit die ältesten Tempel auf Malta und sehr gut erhalten.
Der größere der beiden ist aus der Zeit von 3600-3200 v. Chr., während der kleinere aus der Zeit von 3300-3000 v. Chr. stammt. Die reichhaltigen Funde von Töpferware lassen darauf schließen, dass die zwei Tempel auf den Resten eines früheren Dorfes erbaut wurden. Unter den Funden dieser Stätte wurde eine einzigartige Entdeckung gemacht – ein kleines Modell eines Gebäudes aus Kalkstein.
Der größere Tempel befindet sich in der Mitte eines weiten, halbkreisförmigen Vorhofs und die bedeutende Fassade mit ihrem monumentalen Zugang wurde 1937 wiederaufgebaut. Zwei Stufen führen hinauf zu dem Haupteingang, der von enormen, aufrechten Korallenkalksteinen flankiert wird und dem Korridor. Der Korridor nach dem Eingang ist mit sorgfältig verlegten, breiten Steinblöcken gepflastert.
Kontaktinformation
Kontakt:

Heritage Malta

Telefon:

+356 21586264

Telefon:

+356 22954000

Faxnummer:

+356 21222900
Ausstattung & Dienstleistungen
Ländlich gelegen
Allgemeine Information
Anfahrt:

Simply take a bus to Mġarr town centre.

Öffnungstage:

Montag
Dienstag
Mittwoch
Donnerstag
Freitag
Samstag
Sonntag

Öffnungszeiten:

Monday to Sunday: 09.00 – 17.00hrs. Last admission at 16.30hrs. Closed on 24, 25 & 31 December, 1 January & Good Friday. Due to the small size and fragility of these sites, only 15 visitors may be admitted at a time.