Farmhouses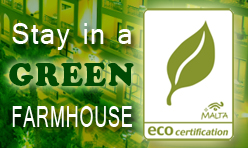 Visitors to the Maltese Islands have the option of staying in converted farmhouse.
These rustic abodes, some of which are more than 400 years old, and many of which are located on the island of Gozo, are an interesting alternative to the standard hotel-type accommodation.
Most farmhouses come with their own private pool and have a stylish decor and all the modern comforts.
For a list of Eco-Certified Farmhouses, click here.