Organisation Information
Natural Attractions
DINGLI CLIFFS
Ħad-Dingli, Malta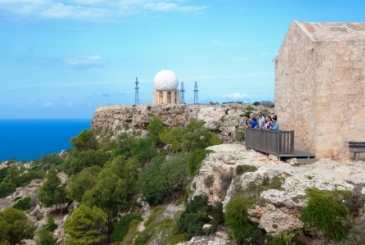 Dingli Cliffs are an impressive sight, especially if view them from sea level on an island cruise.
They are the Island's natural fortress, one bastion the Knights did not have to build to protect themselves. From the cliff tops, one of the most striking views and sheerest drops is just west of Dingli village. Another atmospheric view is over to the uninhabited isle of Filfla. The tiny chapel of St. Mary Madgalene perched on the edge marks the highest point on the Maltese Islands, some 250 metres above sea level. Below the cliffs, where the land slopes before plummeting again, farmers have managed over the centuries to cultivate tiny terraced fields.
The cliffs extend well beyond Dingli village. The south-westerly stretch takes in the evocative heights of Buxih, Fawwara, Ghar Lapsi and Munqar, above the sea at Blue Grotto. Dingli Cliffs seem to exude a mysterious charm especially late evening on calm summer days when the sunsets here can be dramatic.
Contact Information
Contact:

Dingli Local Council,

Phone:

+356 21456060

Phone:

+356 21454555

Fax:

+356 21457226
Facilities & Services
Countryside Location
Disabled Parking
Parking