Organisation Information
Museums & Galleries
GĦAR DALAM CAVE & MUSEUM
Għar Dalam Road, Birżebbuġa, BBG 9014, Malta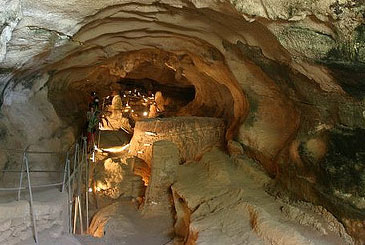 Ghar Dalam Cave is a highly important site as it was here that the earliest evidence of human settlement on Malta, some 7,400 years ago, was discovered.
The display area consists of two parts: the cave and the museum, which exhibits a remarkable wealth of finds from animal bones to human artefacts. An overlaying river running at right angles formed the cave. It is some 144 metres deep, but only the first fifty metres are open to visitors. The lowermost layers, more than 500,000 years old, contained the fossil bones of dwarf elephants, hippopotami, micro-mammals and birds. Above the pebble layer that follows is the so-called 'deer' layer, dated to around 18,000 years ago. The top layer dates to less than 10,000 years and holds evidence of the first humans on the Island.
Facilities & Services
Town/City Location
General Information
How to get there:

Take a bus to Birżebbuġa. Make sure to disembark at the Bus
Stop called 'Dalam'(as shown in the map).

Opening Days:

Monday
Tuesday
Wednesday
Thursday
Friday
Saturday
Sunday

Opening Hours:

Monday to Sunday: 0900hrs till 1700hrs. Last admission at 1630hrs. Closed on 24, 25 & 31 December, 1 January & Good Friday.