Información sobre organización
Museums & Galleries
GĦAR DALAM – CUEVA & MUSEO
Għar Dalam Road, Birżebbuġa, BBG 9014, Malta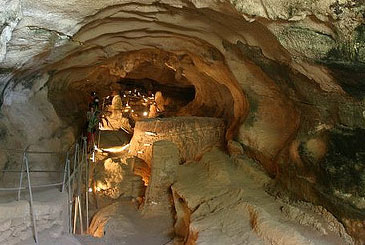 La cueva de Ghar Dalam es un lugar muy importante ya que es allí donde se descubrió la prueba más antigua del asentamiento humano en Malta, que tuvo lugar hace unos 7.400 años.
La zona visitable consta de dos partes: la cueva y el museo, en el que se exhibe una notable riqueza de hallazgos como por ejemplo huesos de animales y utensilios humanos. Un río que discurría por allí en ángulos rectos formó la cueva. Esta cueva tiene unos 144 metros de profundidad pero sólo están abiertos al público los primeros cincuenta metros.
Las capas de tierra más inferiores, de más de 500.000 años de antigüedad, contienen huesos fosilizados de elefantes enanos, hipopótamos, micro-mamíferos y pájaros. Encima de la capa de guijarros que sigue se encuentra la llamada capa «ciervo», que data de unos 18.000 años. Las capas superiores datan de no menos de 10.000 años y prueba la exisencia de los primeros seres humanos en la isla.
Instalaciones & Servicios
Localidad
Información General
Cómo llegar:

Take a bus to Birżebbuġa. Make sure to disembark at the Bus
Stop called 'Dalam'(as shown in the map).

Días de apertura:

Lunes
Martes
Miércoles
Jueves
Viernes
Sábado
Domingo

Horarios de apertura:

Monday to Sunday: 0900hrs till 1700hrs. Last admission at 1630hrs. Closed on 24, 25 & 31 December, 1 January & Good Friday.