Organisation Information
Towns & Villages
MOSTA
Ċentru Ċiviku, Triq il-Kostituzzjoni, Mosta, MST 9059, Malta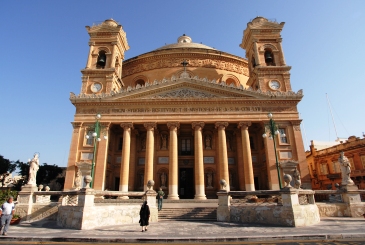 Mosta lies at the heart of Malta, along the Great Fault that runs east-west across the Island.
The town's name derives from the Arabic 'musta', meaning centre. It was only a hamlet in medieval times, but began to develop at the turn of the 17th century after the Great Siege. Today it is a busy market town. At its centre is a magnificent domed church (completed in 1860), the Mosta Rotunda, said to be the third largest unsupported church dome in Europe. It was built to imitate the Pantheon in Rome, by Maltese architect George de Vasse. In World War II, the Church took a direct hit from a German bomb during mass. The bomb pierced the dome, but failed to explode. This event is now regarded as miraculous intervention. You can see a replica of the 200kg bomb in the sacristy. The building of the church was revolutionary in its day: the Mosta Rotunda was constructed over the old church which was only demolished at the last. Mosta is associated with several legends which inspired the building of small devotional chapels: the cave chapel of St. Paul the Hermit in a picturesque valley; and the Chapel of Our Lady of Hope, built as thanksgiving for the safety of a local girl attacked by pirates raiding inland from Salina Bay.
Within the limits of Mosta there are also prehistoric remains such as catacombs under Fort Mosta, and Bronze Age dolmens. Mosta also lies on the Victoria Lines, the British fortifications built along the Great Fault.
Contact Information
Contact:

Mosta Local Council

Phone:

+356 21416841

Phone:

+356 21410245

Fax:

+356 21438797
Facilities & Services
Disabled Facilities
Disabled Parking
Garden
Parking
Public Payphone
Public Toilets
Restaurant
Shops within 1 km
Town/City Location
WiFi