Village Festas
The festa season in Malta is made up of a long series of extended weekends, starting from the end of May right through the entire summer and well into September. During this period, there is hardly any weekend when a town or a village is not celebrating the feast of its patron saint or other saints revered in different churches.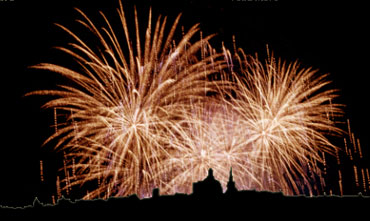 Banners, papier maché statues raised on wooden columns and festoons decorate the main streets of the locality where the feast is taking place. The inhabitants of the town or village then add to this festive mood by decorating their own balconies and rooftops with lit up coloured festoons – blue, red, green – according to the feast they are supporting. Flags are also hoisted on public places and private residences as a sign of participation.
A typical Maltese 'festa' lasts three days or longer. On any one of these evenings, you are bound to see hundreds of people in festive mood. Traditional and fast food stands vie with each other to sell their wares to the crowds of merry-makers. Typical products are Maltese type nougat and other sweet delicacies.
Homes are looking their absolute best, often benefitting from a fresh coat of paint a few weeks before, in preparation for the feast. The interiors may be glimpsed through the open doors and windows, unless your curiosity gets rewarded by an invitation from the family to come inside for a closer look… and a drink!
The evenings often end with spectacular ground and aerial fireworks displays in an explosion of colour, firecrackers and loud petards.
For details about this year's calendar of feasts, visit our events calendar.