Weddings & Honeymoons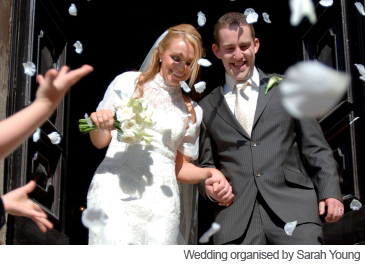 With year-round sunshine, crystal waters and luxurious resorts, Malta offers the perfect backdrop to a wedding or honeymoon. In Maltese culture, marriages are lavish affairs, but whether you're planning a laidback do for close family or a spectacular affair for 200, any wedding held there will be one to remember.
The celebration can take whatever form you wish from a meal or cocktail party to a lavish reception, the old-fashioned way. Large buffet receptions are very much part of the traditional Maltese wedding.
As to venues, you can choose from a variety of hotels, baroque palaces with gardens, converted farmhouses. The Islands have a wide selection of experienced, professional caterers who can offer local fare including dressed tuna to barbecues and mouth-watering buffet and finger food.
The 'Going away' ritual can be memorable: whether you choose a horse-drawn Karrozzin, a sleek limousine or even a traditional Dghajsa boat on Grand Harbour.
With the wedding over, you then have time to explore the Islands. You'll never exhaust the possibilities which range from the cosmopolitan side of Malta to the lure of Calypso's Isle, Gozo , and the solitude of Comino.
T

he information provided in this section is derived from third party religious or civil entities and may be subject to changes outside of the webmasters' control from time to time. Visitors are encouraged to check local marriage laws, regulations and limitations directly with the Maltese Marriage Registry for Civil weddings, with the Maltese & Gozitan Diocese (Roman Catholic weddings) and/or their respective religious denomination or belief-system representation in Malta.