Esküvők és nászutak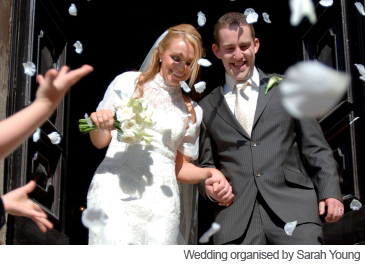 Az ünneplés formája igény szerint alakítható, étkezéstől a koktélpartin át egészen a régi divat szerinti fényűző fogadásig. A nagyszabású büfé fogadások a hagyományos máltai esküvő szerves részét képezik.
A helyszínek tekintetében a házasulandók különféle hotelek, kertes barokk paloták, és átalakított tanyaházak közül választhatnak. A szigeteken tapasztalt, professzionális zolgáltatók széles választéka várja a vendégeket, akik helyi specialitásokat kínálnak a tonhaltól a grillsütéseken keresztül az íncsiklandozó büfékig és hidegtálakig.
Az "eltávozási" rituálé emlékezetessé tehető egy fogatolt Karrozzinon, egy fényes limuzinban, vagy akár egy hagyományos Dghajsa hajón a Nagy Kikötőben.
Az esküvő után jut idő a szigetek felfedezésére is. A lehetőségek kimeríthetetlen tárháza várja az idelátogatókat Málta kozmopolita oldalától, Calypso szigetének, Gozonak varázsán keresztül Comino magányáig.
T

he information provided in this section is derived from third party religious or civil entities and may be subject to changes outside of the webmasters' control from time to time. Visitors are encouraged to check local marriage laws, regulations and limitations directly with the Maltese Marriage Registry for Civil weddings, with the Maltese & Gozitan Diocese (Roman Catholic weddings) and/or their respective religious denomination or belief-system representation in Malta.