3rd Party Organisation Information
Museums & Galleries
GĦAR DALAM CAVE & MUSEUM
Għar Dalam Road, Birżebbuġa, BBG 9014, Malta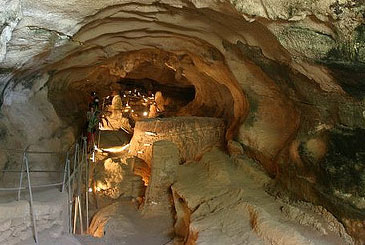 A Ghar Dalam barlang nagyon jelentos helyszín, mivel itt találták meg Máltán a legkorábbi emberi település közel 7,400 éves maradványait.
A megtekintheto terület két részbol áll: a barlangból és a múzeumból, amelyben az állati csontoktól az emberi tárgyakig rendkívül nagy számú lelet van kiállítva. A barlangot egy derékszögekben felette haladó folyó alakította ki. A barlang 144 méter mély, de csak az elso ötven méter áll nyitva a látogatók elott.
A több mint 500,000 éves legmélyebb rétegekben törpe elefántok, vízilovak, mikro-emlosök és madarak oskori kövületeit találták meg. Az ezt követo kavicsréteg felett helyezkedik el a kb. 18,000 évesre becsült úgynevezett "szarvas" réteg. A felso réteg kevesebb, mint 10,000 éves, és a szigeteket lakó elso emberek nyomait hordozza.
Felszereltség és szolgáltatás
Városi elhelyezkedés
Általános információ
Hogyan közelíthető meg?:

Take a bus to Birżebbuġa. Make sure to disembark at the Bus
Stop called 'Dalam'(as shown in the map).

Nyitvatartási napok:

Hétfő
Kedd
Szerda
Csütörtök
Péntek
Szombat
Vasárnap

Nyitvatartási idő:

Monday to Sunday: 0900hrs till 1700hrs. Last admission at 1630hrs. Closed on 24, 25 & 31 December, 1 January & Good Friday.