3rd Party Organisation Information
Beaches & Bays
GĦAJN TUFFIEĦA
Limits of Mġarr, Malta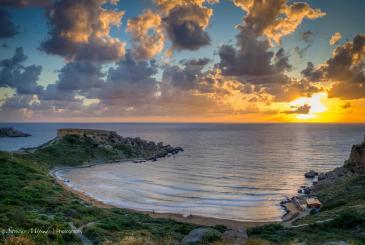 Għajn Tuffieħa is a popular sandy beach nestling below hills and an unusually-shaped promontory. It is unspoilt and undeveloped, yet has the facilities you need to enjoy a day on the beach sun lounger and umbrella hire, pedallos and a small snack bar.
The beach can only be reached down a steep flight of steps or by a gravel track. The hillside behind is a designated natural park. The foundation managing the hillside has planted tamarisk and samphire to prevent further erosion at this beautiful natural bay. Għajn Tuffieħa's location means it is not usually as crowded as its neighbour, Golden Bay. However its fine sand and rural surroundings make it the more alluring.
The beach is generally safe for swimming but it is prone to strong currents when the wind is to the north-west. A red flag indicates when bathing should be limited to the shallow waters only.
A headland to the west side of the bay separates this beach from Gnejna Bay. All the area is a Special Area of Conservation (SAC) due to unique geological features.
Tip: Linger on after most bathers leave for home and enjoy the best time on the beach — the spectacular sunsets.
Контактная информация
Контакт:

Gaia Foundation

Телефон:

+356 21584474
Инфраструктура и услуги
Бар
Водные виды спорта
Общественные туалеты
Общественный платный телефон
Парковка
Парковка для инвалидов
Пляж, удостоенный Синего Флага