3rd Party Organisation Information
Beaches & Bays
MELLIEĦA BAY
Mellieħa, Malta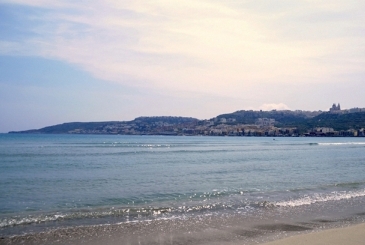 Mellieha Bay is the largest beach of thirteen pocket beaches around Mellieha. It is a sheltered beach between two headlands and is situated on the Northern part of the Island.
Its sand has a low gradient slope and together with its clear, shallow water makes it the most popular family beach on the island. Mellieha Bay has most facilities and services including restaurants and two hotels. Some parts of the bay are designated for water sports and wind surfing. Beach management is operated between June and September by the Malta Tourism Authority with the cooperation of Mellieha Local Council. It includes the services of lifeguards, a small First Aid clinic, two beach supervisors and a number of persons in charge of beach maintenance. It is an accessible beach furnished with a mobile toilet, wheelchair access and special sand wheelchair buggies for physically impaired bathers. In 2011 the beach was awarded a Beach of Quality Award.
Mellieha Bay has an old castle perched on one side while the old village of Mellieha is situated high on the opposite side.
The hinterland of Mellieha Bay was once an important salt flat and wetland, known as L-Ghadira. It is now a Nature Reserve that boasts of indigenous flora and fauna, and is popular with bird watchers who study local and migratory birds. Mellieha Bay is also referred to as L-Ghadira.
Контактная информация
Контакт:

Mellieħa Local Council,

Телефон:

+356 21521333
Инфраструктура и услуги
Бар
Водные виды спорта
Инструктаж для дайверов
Инфраструктура для инвалидов
Кафе'
Магазины в радиусе 1 км
Общественные туалеты
Общественный платный телефон
Парковка
Парковка для инвалидов
Пляж, удостоенный Синего Флага
Принимаются основные банковские карты
Прокат оборудования