3rd Party Organisation Information
5 Star Hotels
THE WESTIN DRAGONARA RESORT
Dragonara Road, St. Julian's, STJ 3143, Malta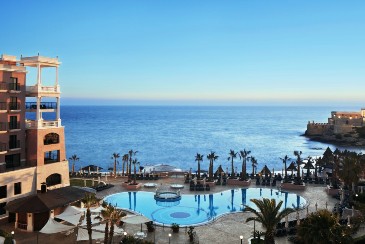 Suffused with the clear stillness of our refreshing seaside location, The Westin Dragonara Resort is a place between being and becoming in which nothing matters except your delight. The Westin Dragonara Resort rests on its 74,000-square-metre peninsula like a crown jewel, offering a glimpse of opulence and optimism to every guest. The azure waters of the Mediterranean lap against our private beaches, rimming the two beach lidos, casino and luxury hotel with their refreshing buoyancy. And with the blend of ancient and modern wonders of downtown only minutes away, there are endless possibilities for renewal.
Our concierge will be delighted to assist with whatever might enrich your stay here on the archipelago's largest island, helping to replenish your spirit as you achieve the ultimate balance between business and pleasure. From the moment you set foot on the private peninsula and enter the refined spaces of this luxury hotel, you will feel the difference with all five senses. It is like a dream world, gently nourishing your very being-with all the vibrant energy of downtown's shopping, dining, temples and marinas only minutes away.
Stay active at your choice of two private beach lidos and their rejuvenating outdoor pools, full-service sundecks, gorgeous views and direct access to the sea. Or recharge with a workout in our WestinWORKOUT® Powered by Reebok® gym. Entertainment abounds, with diving and watersports, on-site shopping and Malta's historic casino mere steps away. Come immerse yourself in the essence of leisure. We promise uplifting time to spend thinking, being and becoming, wrapped in the tranquility of Westin.
Feel free to linger in the refined guest rooms and suites-Malta's largest standard accommodations, offering amenities that encourage your senses to recharge. From the Heavenly® Bed to private balconies overlooking the sea, there is always room for daydreams. Come be a part of it all at Westin, where nothing is overlooked but the sea.
Контактная информация
Телефон:

+356 21381000

Факс:

+356 21381347
Инфраструктура и услуги
WiFi
Бассейн под крышей
Бассейн под открытым небом
Водные виды спорта
Дети допускаются
Есть детская кроватка(люлька)
Есть эко сертификация
Имеется детский стульчик
Инфраструктура для инвалидов
Инфраструктура для проведения встреч
Комната для багажа
Круглосуточная стойка регистрации
Лифты
Магазины в радиусе 1 км
Место расположения
Обслуживание в номерах
Общественный платный телефон
Парковка
Парковка для инвалидов
Принимаются основные банковские карты
Расположен на побережье
Ресторан
Сад
Сауна
Свадебные торжества
Свадебные туры
Услуги прачечной
Общая информация
Рабочие дни:

Понедельник
Вторник
Среда
Четверг
Пятница
Суббота
Воскресенье

Используемые языки:

Кухня:

Количество номеров:

340

Количество номеров люкс:

77

Количество Спальных Мест:

567